Areas We Cover
Here at Sovereign Sports we are specialists when it comes to installing all-weather sports surfaces. We can construct tennis courts and other sport surfaces to SAPCA and LTA standards and have provided for tennis clubs, local councils, sports clubs and private homes across the South East. We are able to cover East Sussex including towns like Brighton, West Sussex, Hertfordshire, London, Kent including towns like Canterbury and Tunbridge Wells. Surrey towns such as Guildford and Dorking and throughout Essex including Chelmsford. We also provide services elsewhere including Bedford, Silverstone, Kettering, Buckingham, Northampton and Milton Keynes. We are dedicated to offering our clients honest, reliable advice regarding any tennis court resurfacing or construction and also offer a free quotation so that you get all the advice and information you need in relation to your specific requirements.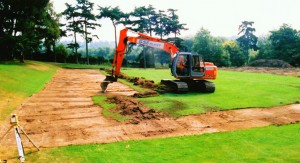 We are specialist contractors in tennis court construction as well as other sporting surfaces. We have built many tennis and MUGA surfaces for schools, clubs, councils and private homes and you can count on us to deliver an exceptional service every time. We offer a no obligation site visit to assess your new construction project.
There are plenty of high quality sporting surfaces for you to choose from depending on your sporting requirements. We construct all weather tennis courts including the popular open textured porous macadam tennis court. We also build alternative tennis courts such as synthetic clay and artificial grass depending on your preferences. In addition, we construct synthetic grass surfaces that are ideally suited to sports such as tennis, football, hockey, cricket and golf among others. Our MUGA surfaces include the Matchplay 2 Synthetic which is a high quality, multi-sport surface and 3rd Generation FIFA 1 Star equivalent surfaces which offer similar characteristics to grass.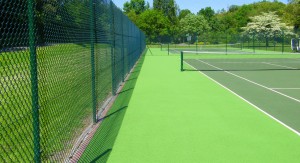 It's important to carry out regular maintenance on all sporting surfaces in order to maintain their condition and safety requirements. We provide surface maintenance services across the South East, clearing and sweeping leaves as well as getting rid of any rubbish that obstructs the surface. We provide an essential power wash service for all open textured macadam surfaces to prevent the growth of moss and reduce its slipperiness. We can also freshen up synthetic grass surfaces with our specialist brooming service. We also provide a colour spraying service which is necessary every five or six years to maintain the condition of the surface.
Some of our additional services include floodlight installation for outdoor sport during the winter, personalised fencing, practice walls, patio areas, paths, landscaping and more. Our retractable and static floodlighting solutions may require planning permission due to the installation of floodlighting columns.
We'd be delighted to discuss your project and offer you a free no-obligation quote, just fill in the form below
To find out more about the tennis courts and sporting surfaces we can build for councils, schools, clubs and private properties as well as our additional construction and maintenance services, call our office today on 01634 684 235, fill in the form below or email us at info@sovereign-sports.co.uk.