Tennis Court Construction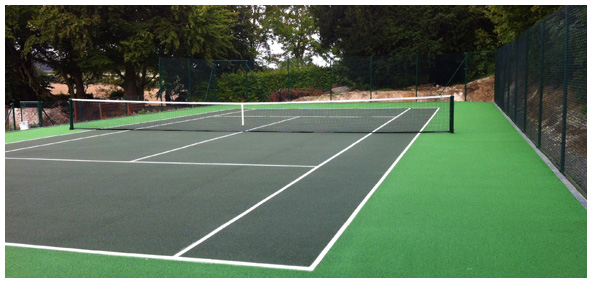 Sovereign Sports are specialist contractors in tennis court construction and sports surface installation. We have successfully installed numerous tennis courts and MUGA surfaces for schools, councils, clubs and private homes predominantly in the South East of England. We can provide a no-obligation site visit and detailed quotation for clients in the area. If you are interested in having a court constructed, please don't hesitate to contact us today.
New Build – Planning Permission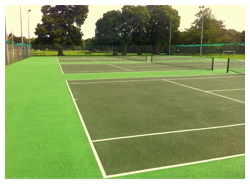 In the majority of cases, the only planning permission that would be required is for the fence.Normally the fencing height does not provide an issue with most authorities. If the court is being built within a private garden then this does not require permission in most situations. The court area itself would only require planning permission if it is being built on land which needs a change of use. For example you would likely need permission if the proposed site for the court is in a field or meadow which backs onto the property.
Court Positioning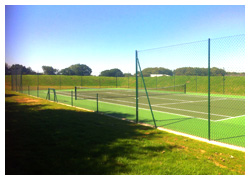 Ideally exterior tennis courts should preferably be positioned with their length running north to south. This is to make the best use of the sunshine. As the sun rises in the east and sets in the west, the sun will then shine across the court rather than in the face of the players. However, this is by no means essential, and we are happy to carry out tennis court construction in any direction if there are no other options in the available space.
Site Levels and Excavation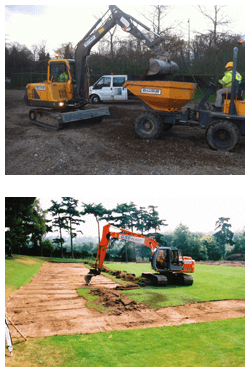 Clearly a tennis court needs to be perfectly flat and level, so in the ideal situation, the site of your court would be reasonably level and have no surrounding hedges or trees. If the site area has a significant slope then the excavation works would take longer and possibly depending on access to the site, this will be reflected in the price. To build a court in a sloped area we would use a cut and fill method, excavating the required amount of material from one end of the court in order to raise the other.
This is quite common practice in tennis court construction, although it is of most importance that this process is carried out correctly, if not this may well result in the court subsiding in years to come. In extreme situations it is possible that retaining walls may be required, again this would be reflected in the price. Any small trees or other obstructions can be taken down by us, prior to commencement of any further works. In a typical tennis court construction situation all topsoil excavated from the site would be machine levelled around the court, if needed this can be removed from site although extra costs will be incurred.
Construction Time
For a standard court on a reasonably flat area, total tennis court construction time is between 6 and 8 weeks, this includes the macadam curing period prior to the painting. We ensure all disruption is kept to a minimum during the construction period, and the site will be left clean and tidy once construction is completed.
Surface Cross Section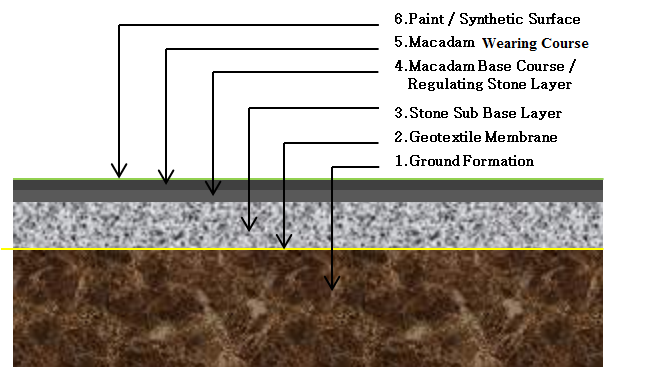 We offer tennis court construction services across the UK, including: East Sussex, West Sussex, Hertfordshire and Essex. We have constructed tennis courts in major towns and cities across the southeast, including London, Tunbridge Wells, Brighton and Canterbury.
We'd be delighted to discuss your project and offer you a free no-obligation quote, just fill in the form below
New Build Case Study