TENNIS COURT CONSTRUCTION AND RESURFACING SILVERSTONE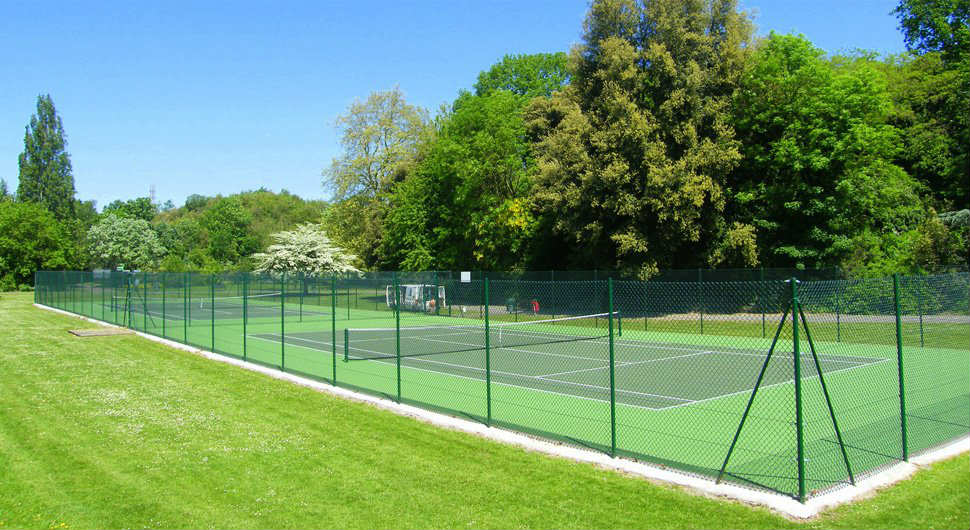 Here at Sovereign Sports, we have constructed multiple tennis courts for clients based in Silverstone and further afield. While the area may be more famously known for being the home of British racing, thanks to our team's extensive experience, we now work with local councils, schools, homeowners and clubs to install all-weather sports surfaces that correspond to SAPCA and LTA standards.
Whichever type of tennis court or sport surface you are looking for, we can provide you with expert advice and a no-obligation quote to help guide you through the decision-making process.
TENNIS COURT CONSTRUCTION SILVERSTONE
Our team have two key specialisms: constructing new courts and resurfacing pre-existing courts. Our tennis courts and MUGA surfaces are used throughout the Silverstone area – from sports clubs and schools, to family properties and council-run facilities.
To start the process of having a court installed at your building, we would be more than happy to provide you with a no-obligation site visit. During this process, we will initially assess your existing court surface or potential construction area, and then go through the work that will be required.
In our experience, all-weather tennis courts are one of the most popular options, with open textural porous macadam one of the more commonly used surface types. However, we can construct a number of other tennis court surfaces as well, like clay or artificial grass. If you're hoping to use your sports surface for more than just tennis though, we can also install certain surfaces which are better suited to other sports, such as football, hockey or netball.
TENNIS COURT MAINTENANCE SILVERSTONE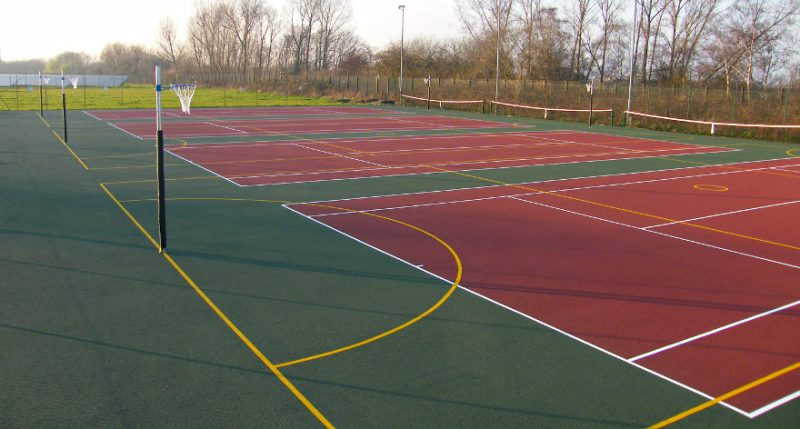 Our team help maintain all existing tennis courts and sporting surfaces, since we understand how important it is for playing surfaces to be kept in good condition. The main services we offer related to this include sweeping courts clean of all leaves, litter and debris, power washing open textured surfaces to ensure they remain moss-free, and freshening up synthetic grass surface with a specialist brooming service. We also colour spray each surface every five years to keep them looking their best.
FLOODLIGHTS AND FENCING
Our team can also install retractable and static floodlighting on all types of tennis court. While this may require planning permission beforehand, our team are equipped with the expertise and experience to walk clients through the process involved.
Floodlighting can be especially important should you want to use your tennis court on darker evenings. Likewise, having bespoke fencing, a practice wall, or almost any other form of landscaping can also help make your court more playable, and are all additional options we offer here at Sovereign Sports.
CONTACT US TODAY
Interested in finding out more about our all-weather tennis court installation services? Please contact our team either using the form below, or by emailing info@soveriegn-sports.co.uk.
Whether you need advice on renovating an existing tennis court or have a question on how to maintain it effectively, a friendly member of our team will be ready and waiting to help with your query.