Specialising in the installation of synthetic tennis courts, Sovereign Sports has extensive experience in constructing everything from artificial clay courts to advantage pro synthetic grass surfaces. If you are interested in having a synthetic surface tennis court created for either a residential or commercial installation, please contact us today.
We are highly experienced constructers of high quality all-weather sports surfaces including tennis courts and other sporting surfaces, all of which are built to SAPCA and LTA standards. We regularly provide our construction services to private homes, local councils, tennis clubs and sports clubs. We operate across the South East and have built high quality synthetic surfaces in Kent, East and West Sussex, Surrey, Greater London, Essex and Hertfordshire for 40 years.
Artificial grass tennis courts
We offer artificial grass tennis surfaces sourced from Playrite Ltd. Playrite are world leaders in the manufacture of artificial grass for many different sports including netball, tennis, football, cricket, volleyball, hockey and golf. We offer numerous different styles of synthetic grass carpet with options in the pile height, construction material, texture and in-fills.
Grass courts are highly sought after due to the prestige of tournaments such as Wimbledon – our artificial grass surface offers a remarkably similar playing experience to a real grass court, while requiring far less in the way of court maintenance.
Synthetic clay tennis courts are very similar to natural clay which has made them an increasingly popular option around the UK. We have constructed artificial clay surfaces for tennis clubs, leisure centres, local councils and even in private homes, so we are happy to take on any kind of installation challenge.
The court is created with a short-pile sand-filled surface that is designed to replicate the playing characteristics as well as the look and feel of playing on a natural clay court. In some ways our synthetic clay courts actually have advantages over natural clay in that they are all-weather courts and require far less maintenance. They are suitable for players of all levels – from casual play at home to tournaments.
The surface offers medium to slow pace of play, just like a natural court. You will also see a similar bounce and response to spin, as well as the ability to slide.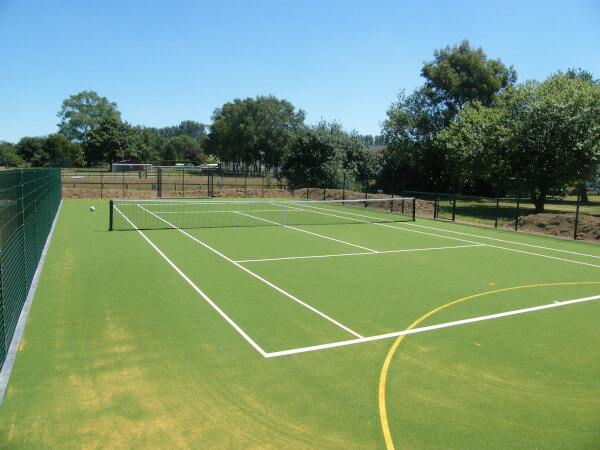 Discuss your requirements with our experienced team