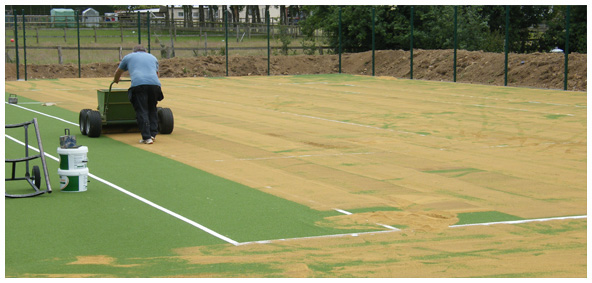 Artificial Clay Surfaces
Sovereign Sports specialises in the construction of all-weather sports surfaces, including artificial clay tennis courts. All our tennis courts and sports surfaces are built to SAPCA and LTA standards for local councils, tennis clubs, sports clubs and private homes through the South East of England. We provide honest advice alongside our no cost quotations and can guarantee customer satisfaction on every project.
Here at Sovereign Sports we take pride in the quality of our sporting surfaces which is why we only ever source surfaces from the most reputable manufacturers. With the help of sporting surfaces sourced from Playrite Ltd, we can ensure that the quality of your tennis court plays an important role in attracting new members and provides existing members with a comfortable game every time. Playrite tennis surfaces are designed to offer minimal maintenance, outstanding grip and increased user comfort.
Synthetic Clay
Our Synthetic Clay Courts resemble natural clay impeccably, with the same colour infill used and ball marks visible during a game to make it all the more realistic. It also slides like natural clay to enhance performance and game experience, while also offering bounce and comfort that is expected at all sporting levels, including tournament play. The surfacing is low maintenance to promote sustainability of the courts and this also lowers the overall running costs. The surface is also capable of withstanding all kinds of weather conditions.
Contact Us
To find out more about our specialist artificial clay tennis courts and the various other synthetic surfaces we have to offer for all kinds of sports, please do not hesitate to get in touch. We cover Sussex, Surrey and the rest of the South East and our friendly team will discuss your specific requirements with you, whether you own private land or are looking for a new artificial clay court for your sports club. Call us today on 01634 684 235 or email us at info@sovereign-sports.co.uk.