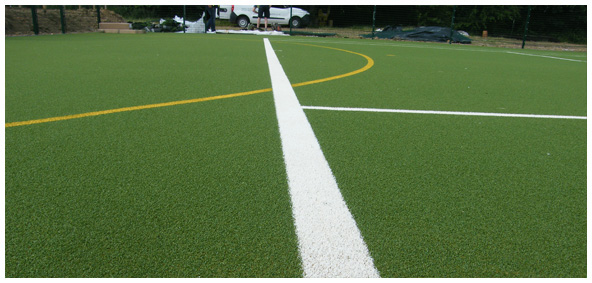 Synthetic Grass Surfaces
We install a range of synthetic grass surfaces suitable for all kinds of sports such as football, hockey, tennis, netball, cricket and golf. The different styles of carpet incorporate various textures, pile heights, construction materials and in-fills. Some synthetic grasses use silica sand in-fill for instance, while others use rubber crumb or even a combination of both. The specific characteristics of the synthetic surface are dependent on the sport being played.
Sovereign Sports supply all kinds of Synthetic grass surfaces suited to numerous sporting requirements. If a particular surface you are interested in is not on our website, simply get in touch with us and we will discuss your specific requirements with you. Examples of our comprehensive range of artificial grass surfaces can be viewed on our Surfaces page.
Advantage Pro Synthetic Surface
Advantage Pro is suited to players of all ages and abilities. It is a premium, all-round surface that features cushioning underfoot in order to meet the requirements of mixed ages and abilities. The enhanced cushioned means that the surface retains its shape even after heavy use, resulting in consistent shape and structure that benefits performance, resilience and condition. It is certainly the most natural looking, durable and resilient tennis surface on offer and proves to be an outstanding long-term investment.
In order to provide the best performance possible, Advantage Pro Synthetic Turf is tested to ITF standards and a top-of-the-range surface manufactured using ground-breaking technology that focuses on reducing surface maintenance and surface degradation. Sand in-filling offers the essential stability and resilience needed to meet tournament level requirements. An Advantage Pro Tennis Court has even been designed to negate shine when wet, on top of withstanding high usage levels. It drains well to make it playable after heavy rain and is a proven product in all weather conditions.
Advantage Pro is the latest version of Advantage and the number one tennis surface in the UK. All of these surfaces provide the same outstanding performance but now an additional 29% longer life span. Advantage delivers exceptional performance every time which cannot be replicated.
Learn more by reading our blog pros and cons of a synthetic grass tennis court.
Contact Us
For more information on the Advantage Pro Synthetic Surfaces or any other Synthetic Grass Surfaces we have to offer, please do not hesitate to get in touch with us on 01634 684 235 and our friendly team will be more than happy to help.