New Surround chain link fencing systems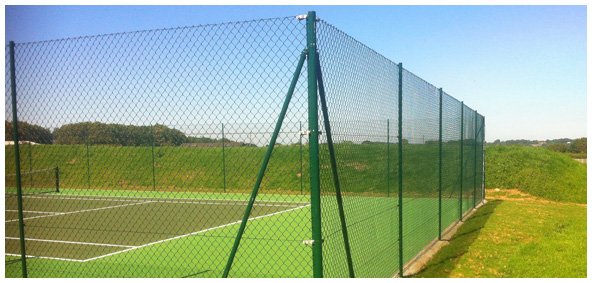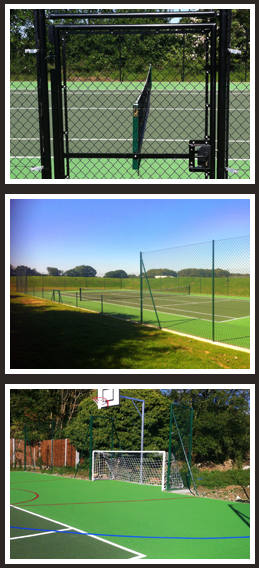 At Sovereign Sports, we specialise in customised tennis court fencing. If you are interested in having any kind of tennis court fencing system constructed for your court, our expert team has years of experience. Please get in contact with us today by calling 01634 684 235 and we will be able to talk you through the wide range of options we can offer. Whether you are having a tennis court installed at your property or you need new fencing for your sports centre, we can help.
We supply two fencing systems as standard when we construct tennis courts: tubular or angle iron powder coated fencing, either in green or black. Typically when we build a court we supply and install 2.75m (9ft) tubular tennis court fencing which encircles the entire court and has a single leaf gate. Alternatively, we are able to include a 'viewing gallery' along one side of the court we can include a dropped section. This gives one side of the court a height of 1m with a 1m x 1m gate at the centre of the fence.
Through our extensive work with fencing we can provide you with a completely customised solution for your tennis court. No matter what you are looking for, we can deliver it – from larger posts for greater fence height and thicker chain links to tubular systems with decorative finials. We can also add options such as extra-large gates, kick boards and top and bottom rails. If you require alternative fencing systems, for example for multi-use games areas (MUGA) and courts that need more robust fencing, we would also be happy to set this up for you.
Ball Court Fencing Systems
No matter what kind of court or facility you have, we can provide the fencing for it. From 1m high viewing barriers, to full 5m height MUGA rebound fencing, along with the required goal ends and basketball hoops.
The sports fencing that we most commonly install is our 3m high Sports Rebound fencing. This type of fencing is manufactured from twin 8mm horizontal wires for fantastic durability and strength. We can also powder coat and galvanise any of fencing systems as you require.
ZAUN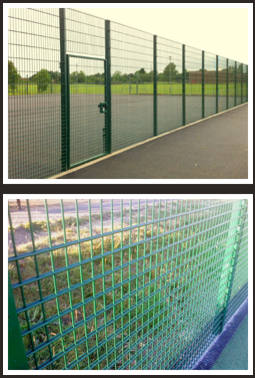 If you are interested in having a rebound board system installed, the Super Sports Rebound Panel by ZAUN has become the preferred and popular choice over wooden rebound board systems. Unfortunately wooden boards offer a hiding place for trespassers and children, and can be easily be subjected to graffiti. Equally they are typically less durable and long-lasting due to the nature of the material used.
The twin horizontal 8mm wires ensure vital resistance to deformation from impacts and vandalism and it is suitable for a range of MUGA courts. Most importantly, the high-density twin wire construction allows for rebound qualities similar to that of a solid surface, meaning that the angle at which a ball strikes the surface will be the same as the angle at which it leaves the surface. The panel's structural strength makes it ready for the pressure and abuse of many sports activities, giving the fence a degree of rigidity unparalleled by any other wire product commonly available.
Wisa PA System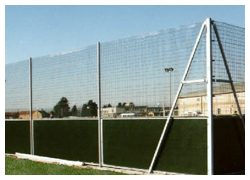 Designed, manufactured and installed for use in MUGA area for high impact activities including five-a-side football where the fence surround is an integral part of the play. This system incorporates robust fibre panels around the lower part of the fence.
358 PA System Fence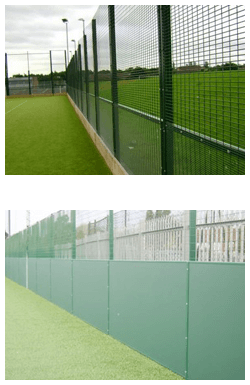 This kind of fencing is incredibly durable and a necessity for MUGA courts where football and other high impact sports are going to be played. '358′ comes from the old imperial measurements, 3″ x 0.5″ x 8 gauge, which refers to the dimensions of the panels. Originally this style of fencing was designed for high security environments, combined with an all steel framework coated to industry standards.
The 358 Panel offers excellent Vandal Resistance as well as aesthetic qualities when polyester powder coated with any colour from the RAL range. The 358 PA SYSTEM framework uses a combination of Durable box section and angle steel. The upper fence cladding materials to be typically a 50 x 50 x 3mm roll format welded mesh fixed using the optimum amount of high tensile line wires, ensuring a strong but flexible deflection surface.
We'd be delighted to discuss your project and offer you a free no-obligation quote, just fill in the form below