Tennis Court Construction and Resurfacing Hertfordshire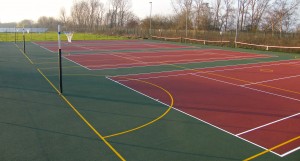 Whether you're interested in having a new tennis court built or you are looking for the finest tennis court maintenance Hertfordshire has to offer, Sovereign Sports can help. We are a team of highly experienced all-weather sports surface constructers with the expertise and skills to construct tennis courts and a range of other sporting surfaces to both SAPCA and LTA standards.
We regularly work at private homes as well as with tennis clubs, sports facilities and local councils across Hertfordshire. Our years of experience have allowed us to build up a brilliant reputation for the quality of our work and our helpful, friendly advice.
Court construction
We specialise in the construction of tennis courts and other sports surfaces and have many years' experience as specialist contractors. We are happy out the construction of everything from tennis courts to MUGA surfaces. Whether you are a school, club or a private home, we offer a no-obligation site visit to take a look at the potential space you have chosen for your court.
Some of our most popular sporting surfaces are all-weather tennis courts, with a particular favourite being the open textured porous macadam surface. Some of our other surfaces include synthetic grass ideally suited to football, hockey, cricket and golf, while alternative tennis courts including artificial grass and synthetic clay are also popular. We also have high quality MUGA surfaces available that include Matchplay 2 synthetic and multi-sport surfaces, as well as 3rd Generation pitches that meet FIFA 1 Star equivalent standards.
Tennis court maintenance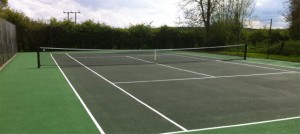 Sovereign Sports can deal with any issues if your existing court or sports surface has become to degrade or fall below the required condition. We can provide a surface maintenance service for almost any kind of surface that you have.
This could include anything from ridding the surface of debris and rubbish that has collected over a period of time. You may also require power washing to get rid of moss and other organic material which can begin to grow in the pores of the hard courts. Additionally, we can carry out colour spraying or a specialist brooming service to freshen up synthetic grass and similar surfaces.
Floodlights and more
If you are looking to get more use out of a court, we also specialise in installing both retractable and static floodlights for new and existing tennis courts. Planning permission is only usually require if you wish to install floodlighting columns.
We additionally offer a range of other services including personalised fencing, practice walls, retaining walls, paths, patio areas and landscaping.
We'd be delighted to discuss your project and offer you a free no-obligation quote, just fill in the form below
To find out more about our sporting surfaces and specialist tennis court construction services in Hertfordshire, contact us today on 01634 684 235, fill in the form below or email us at info@sovereign-sports.co.uk.