Tennis Court Reconstruction
If regular maintenance is not carried out correctly, tennis courts and sports surfaces will not provide long lasting playing facilities. Regular maintenance is very important and if no effort is made to maintain the facility, it will not be long before the surface starts to deteriorate to a degree whereby complete resurfacing is necessary. If maintained correctly, a tennis court surface should last a minimum of 10 years.
Sovereign-Sports can take complete reconstruction and resurfacing works, even in situations where the court is almost unrecognisable.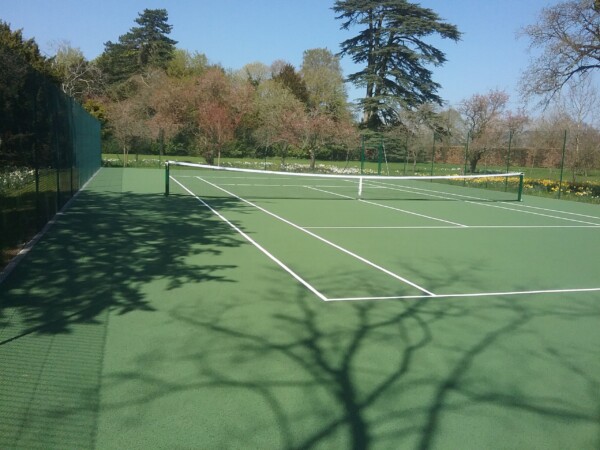 Complete Reconstruction of a Macadam Tennis Court
In some circumstances, the court may seem unrecognisable and possibly beyond repair. If so, we can undertake complete re-construction; this would involve thorough cleaning, possible excavation works, installing new fencing, edgings, sockets and re-surfacing.

First, all vegetation is removed from the court area so we can assess the situation. Then, the fencing would be removed and power washing would commence. If there are any trees or roots on the court, these would be removed and the resultant holes back filled with a dry lean concrete mix prior to surfacing. If root intrusion into the court area does seem to be a big problem it may be advisable to install a root barrier along the problematic side of the court or around the entire court.

Once clean, the old sockets would then be broken out, and the entire court area would be pierced and the resultant holes filled with shingle in preparation for the new surface.
The old fencing would then be taken out where required and new holes excavated, ready for the new fence to be installed.
On certain courts we will need to break some / all of the old edgings out in order to lay the new ones, in other situations this is not necessary. This depends on a number or things; existing edging height, whether the court has previously been resurfaced and the condition of the perimeter of the court.
The new fencing posts and edgings can now be installed. String lines are set up and the new fencing posts and edgings are securely set in concrete. The tennis post sockets will now be installed and the court is ready for surfacing. The bitumen emulsion will be applied on the day of surfacing. The chain link can be hung before or after surfacing. Once the macadam is down, it is left for 3 weeks to cure before paint application. Time scale: 2-4 weeks (plus 3 weeks curing period) – depending on the condition of the court.
Discuss your requirements with our experienced team