Reconstruction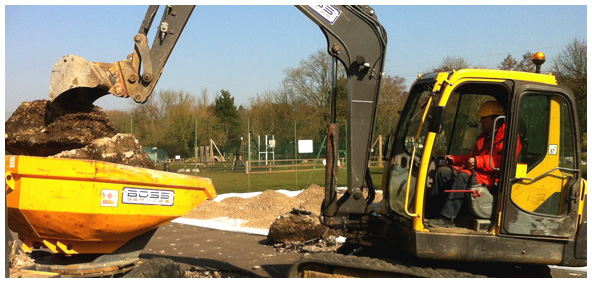 If regular maintenance is not carried out correctly, tennis courts and sports surfaces will not provide long lasting playing facilities. Regular maintenance is very important and if no effort is made to maintain the facility, it will not be long before the surface starts to deteriorate to a degree whereby complete resurfacing is necessary. If maintained correctly, a tennis court surface should last a minimum of 10 years.
Sovereign-Sports can take complete reconstruction and resurfacing works, even in situations where the court is almost unrecognisable.
Complete Reconstruction of a Macadam Tennis Court


In some circumstances, the court may seem unrecognisable and possibly beyond repair. If so, we can undertake complete re-construction; this would involve thorough cleaning, possible excavation works, installing new fencing, edgings, sockets and re-surfacing.
First, all vegetation is removed from the court area so we can assess the situation. Then, the fencing would be removed and power washing would commence. If there are any trees or roots on the court, these would be removed and the resultant holes back filled with a dry lean concrete mix prior to surfacing. If root intrusion into the court area does seem to be a big problem it may be advisable to install a root barrier along the problematic side of the court or around the entire court.
Once clean, the old sockets would then be broken out, and the entire court area would be pierced and the resultant holes filled with shingle in preparation for the new surface.
The old fencing would then be taken out where required and new holes excavated, ready for the new fence to be installed.


On certain courts we will need to break some / all of the old edgings out in order to lay the new ones, in other situations this is not necessary. This depends on a number or things; existing edging height, whether the court has previously been resurfaced and the condition of the perimeter of the court.
The new fencing posts and edgings can now be installed. String lines are set up and the new fencing posts and edgings are securely set in concrete. The tennis post sockets will now be installed and the court is ready for surfacing. The bitumen emulsion will be applied on the day of surfacing. The chain link can be hung before or after surfacing. Once the macadam is down, it is left for 3 weeks to cure before paint application. Time scale: 2-4 weeks (plus 3 weeks curing period) – depending on the condition of the court.

Tennis Court Resurfacing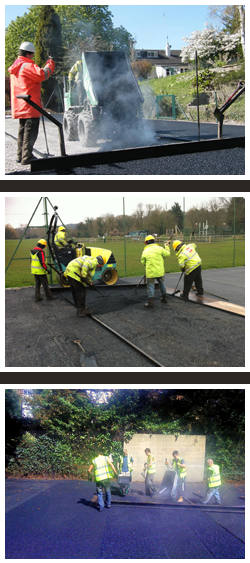 If you have a macadam tennis court either acrylic painted or left in the black, and the surface is beginning to break up or cracks are starting to appear, we may be able to re-surface directly over this surface without the need of a new base stone layer. This is considering the court area itself is relatively level.
We would do this by moss and weed killing the court surface, then piercing the entire surface using a hydraulic breaker and filling the resultant holes with pea shingle. This is to help the new surface drain through, as the old surface will not be as porous as when it was new. Then around the perimeter of the court inside the existing edging we will cut a chase, this is to camber the new surface down to the existing edgings for a neat finish to the new surface. If preferred a new perimeter edging can be installed.
This preparation needs to be completed before the bitumen emulsion is applied immediately prior to the new macadam surface being laid. This is applied using high pressurized spraying equipment necessary for thorough application and helps the new macadam surface bond to the old surface. The new macadam is then laid on the same day.
We normally recommend the new macadam has an acrylic colour coating, this is not necessary, but helps prolong the life of the surface, it is also aesthetically pleasing. It is usually applied in either two tone green, or red and green. As with new builds, the macadam has to be left for approximately 3 weeks for the macadam to cure, before the application of the paint. Time scale: 3-5 days (plus 3 week curing period).
Tennis Court Resurfacing – Synthetic Grass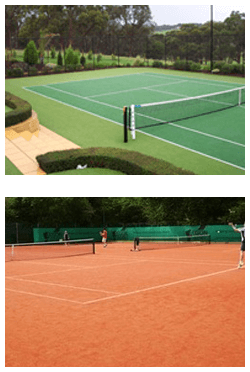 If you have an existing macadam tennis court and you would like to up-grade to a synthetic grass/clay surface, we can lay directly over the old court. This would only be possible if the court area is still relatively level and has not deteriorated into a state of disrepair.
Also, if you have an existing synthetic surface which needs replacing, as specialists in replacing and resurfacing tennis courts, we will remove from site the existing carpet and lay a new synthetic surface on to the existing macadam. If the old surfaces are too deteriorated for a straight forward new synthetic surface to be laid, it will be necessary for macadam resurfacing prior to the new synthetic carpet being laid.
We offer tennis court reconstruction services, including tennis court resurfacing, across the UK, including: East Sussex, West Sussex, Hertfordshire and Essex. We have constructed tennis courts in major towns and cities across the southeast, including London and Tunbridge Wells.
For more information on our services, including tennis court resurfacing, contact us today by filling in the form below.

Complete Reconstruction Case Study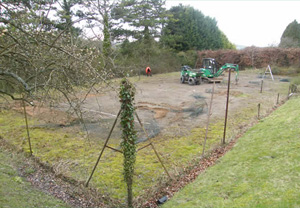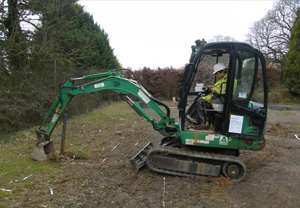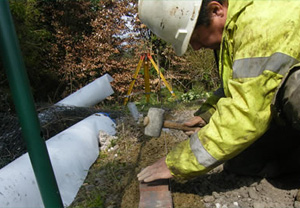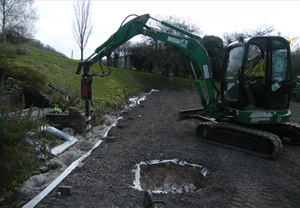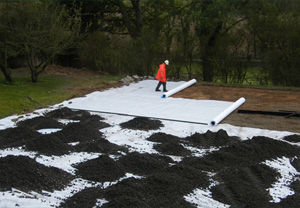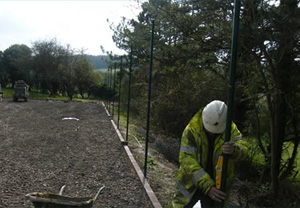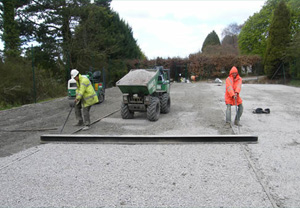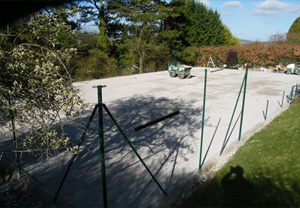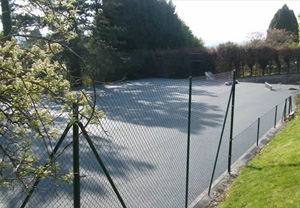 Rickmansworth Playing Fields Case Study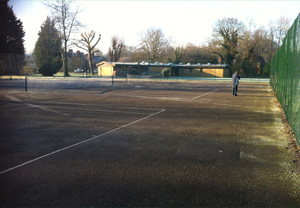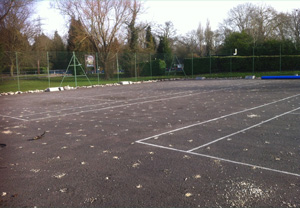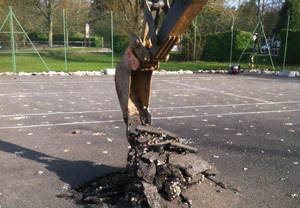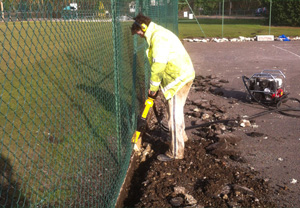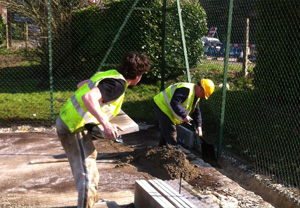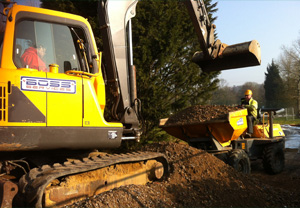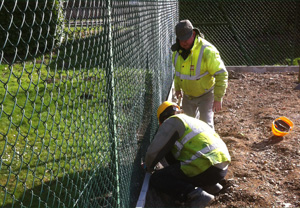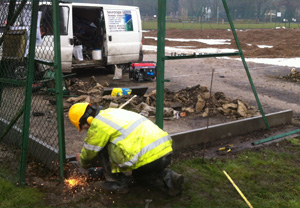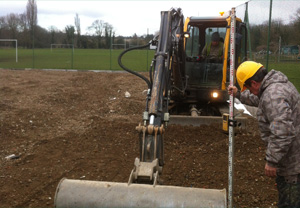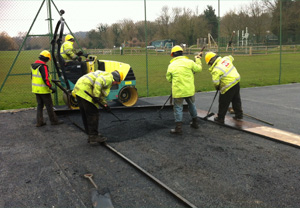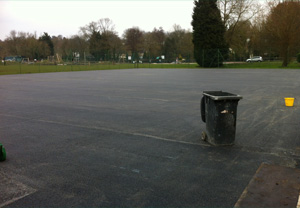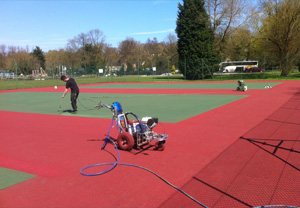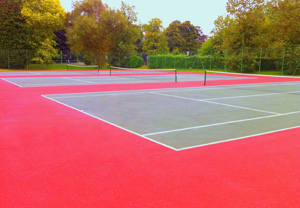 Maryon Park, Greenwich Case Study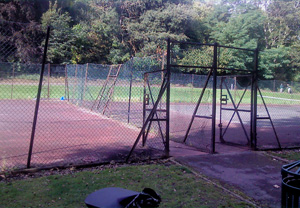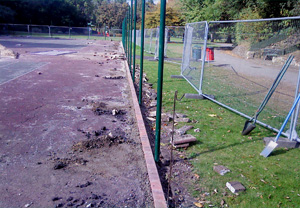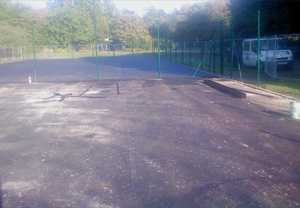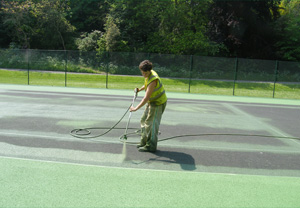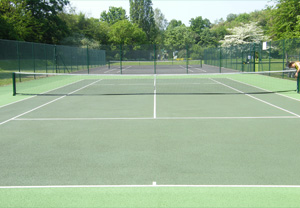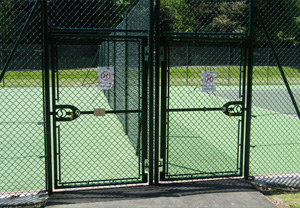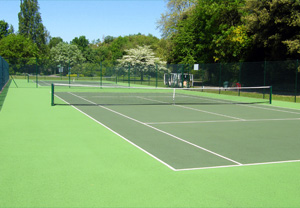 Surfaces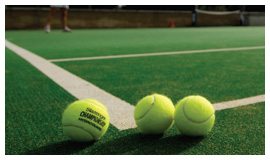 Sovereign Sports offer a range of synthetic surfaces suitable for Multi use play. Ranging from Matchplay2, which is a 6mm sand dressed synthetic surface through to Conqueror 60 MF 3rd Generation 60 mm sand and rubber infill, ideal for five-side football.
more
Fencing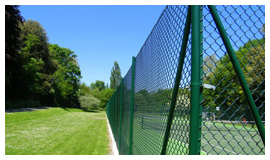 Our company provides two systems as standard, tubular or angle iron powder coated in either green or black, installed around the perimeter of the court to a height of a 2.75m (9ft). There is a vast array of fencing systems on the market today, so if you have something in mind please don't hesitate to contact us.
more
Maintenance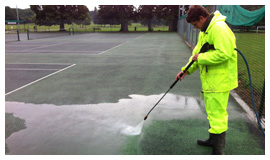 All surfaces need regular maintenance to retain good condition, whether it is porous macadam, synthetic clay, synthetic grass.
Every surface should be swept clean and all leaves, pine needles, detritus and rubbish should be removed on a weekly basis
more
Floodlighting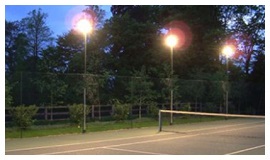 Sovereign Sports are able to offer 2 types of lighting system, Static or Retractable. Our retractable system is aimed more at the private client, being less obtrusive than the full size static option. The static system we offer complies with SAPCA and LTA recommendations and is the preferred choice for clubs and schools.
more
Associated Work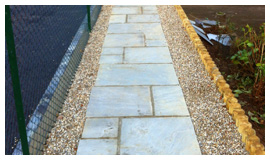 Along with our main concern, being the construction of tennis courts and sports surfaces. We also carry out a wide range of associated works and optional extras which include double edge perimeters, personalised fencing posts, practice walls, retaining walls, paths, patio areas, steps and landscaping to the surround of the court.
more