MUGA Surfaces
Sovereign Sports have years of experience and expertise in multi-use games area (MUGA) surface construction. Whether you are interested in having MUGA construction and installation carried out or you are just looking for more information on the range of surfaces available, our team of knowledgeable professionals would be more than happy to help.
Working with everyone from schools, local councils, sports clubs and private homes, we can either install a completely brand new surface or reconstruct an older court depending on your needs and requirements. We can talk you through the possibilities, including everything from tennis court installation to specialist MUGA surfaces. Please contact us for more details.
MUGA Surface Options
All-weather Macadam
Macadam (or tarmac) is one of the most popular MUGA surfaces in the UK. It is the hardest and most durable surface type as well as being highly economical. Suitable for playing in most weather conditions, macadam surfaces can also be colour sprayed for an attractive aesthetic.
• Hard wearing and easy to maintain
• Perfect for: netball, tennis, basketball
---
Matchplay 2 Synthetic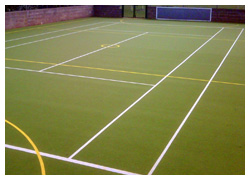 This is a highly popular surface that we are often called to install at schools and sports clubs across the South East. Matchplay 2 offers a very natural feel when compared to other artificial MUGA surfaces on offer. The surface is sand dressed with a cushioned layer that makes it suitable for medium-paced sports.
• Cushioned and easy on the joints
• Perfect for: hockey, netball, tennis
---
Conqueror 3G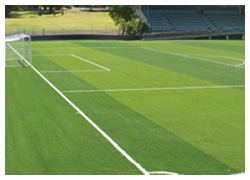 The Conqueror 3rd Generation MUFA surface meets FIH, FIFA 1 star equivalent and IATS performance standards. Filled with sand and rubber, the surface can be used with studded boots to create extra grip. There is also a shock pad absorbing underlay.
• Similar playing characteristics to natural grass
• Perfect for: football, hockey
---
Polymeric
The polymeric surface utilises porous rubber crumb making it a comfortable surface that can be used in almost all weather conditions. Typically it is less slippery than tarmac and is available in a wide range of colours.
• Suitable for running spikes
• Perfect for: football, athletics training, netball
---
Sport Suitability by Surface
Guide: Ideal = ✓✓ Suitable = ✓ Not suitable = ⛌
Macadam
Matchplay 2
Conqueror 3G
Polymeric
Football
✓
✓
✓✓
✓✓
Hockey
✓
✓✓
✓
✓
Tennis
✓✓
✓✓
⛌
✓
Netball
✓✓
✓
✓
✓✓
Basketball
✓✓
✓
⛌
✓
Rugby
⛌
⛌
✓
⛌
Rickmansworth Playing Fields Case Study
We created a MUGA playing surface at Rickmansworth playing fields. The project began with a site visit where we assessed the suitability of the site and talked through the potential options available with the client. From here it was decided that the current tennis surface would be replaced with a brand new macadam MUGA surface.
The next step was to pierce the surface and then remove the old tennis sockets. We then carried out the preparation work at the perimeter of the courts before installing new kerbing, including concrete ring beam. To accommodate the new height of the court changes also needed to be made to the gate. Now that the foundation work was complete, we added a wearing level of macadam and then the surface level before colour spraying for an excellent finish.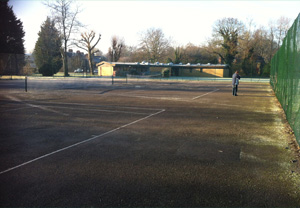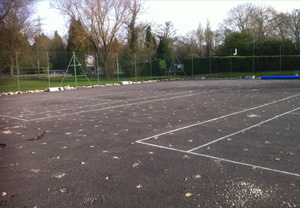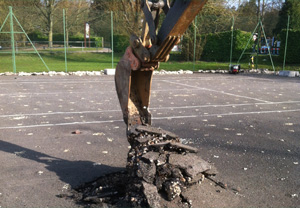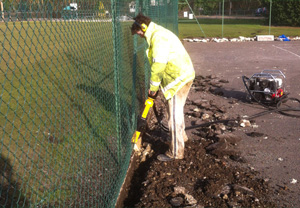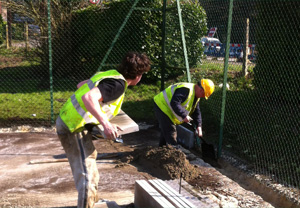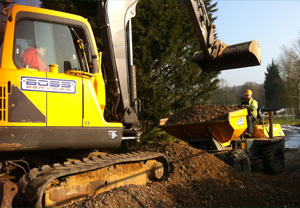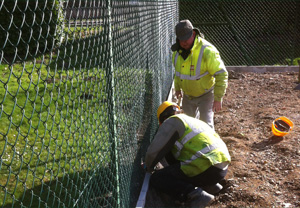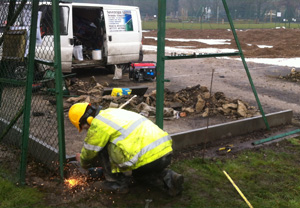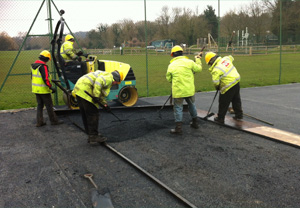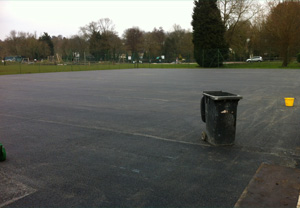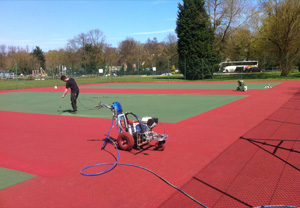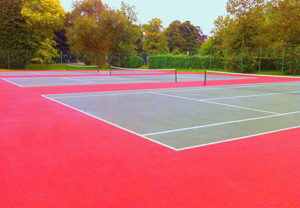 Contact Us
For more information on our specialist MUGA surfaces here at Sovereign Sports and to find out which surface would best suit your requirements, or more about MUGA construction in general, contact us today on 01634 684235 and our friendly team will be happy to help.