MUGA Construction (Multi Use Games Area)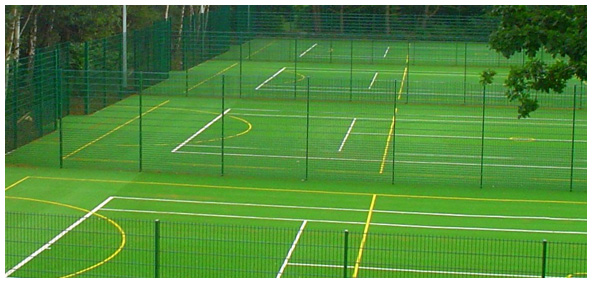 A MUGA (or Multi Use Games Area) is a specially designed area for use with a variety of different sports. For example, tennis, netball, basket ball, five-a-side football. Depending on the sports to be played, the surface and surround fencing will differ. For example on a tennis court, a netball court or basketball sports pitch, a chain link fence would be suitable. If five-a-side football / hockey were to be played then a synthetic surface would be advisable, along with more robust perimeter fencing, such as a sports rebound panel system.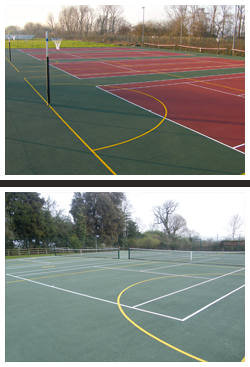 There are a number of stages in the construction of a MUGA pitch prior to the installation of the synthetic grass surface.
The depth of stone and the drainage required is dependent upon the site conditions and it is recommended that an independent site investigation is carried out prior to the commencement of any works. The depth of stone that is recommended in accordance with SAPCA (the Sport & Play Contractors Association) is usually a minimum of 250mm.
Pitches are usually constructed on a stone (dynamic) or macadam (engineered) base.
Macadam Engineered Base
If an engineered base is chosen in the construction of a synthetic pitch, a macadam base will be laid over the base stone. A macadam base can consist of either one or two layers of macadam depending upon the budget available. A second layer of macadam will create a more structurally sound base, prior to the carpet going down. If the finish surface selected is open textured macadam, then a 2 layer system would be advisable
The structure of an Macadam Engineered Base: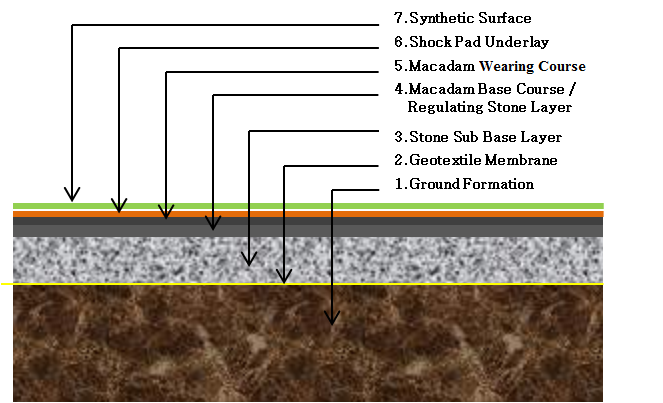 Dynamic Stone Base
A Dynamic stone base is made up of aggregate layers. Each stone layer is laid and fully consolidated to ensure no movement or subsiding ever occurs in the future. The top layer is usually laid by hand, using screed rails, which have been levelled using a dual plane laser.
A Dynamic stone base was originally considered the best foundation on which to construct a sports facility, as an unbound stone allows the shockwaves from impact to disperse between the stone aggregate, making it more appealing to the end user by reducing the likelihood of impact-related injuries. Another benefit of installing this type of construction is that it is more economical.
The Structure of a Dynamic Stone Base: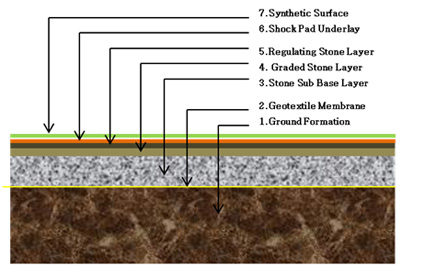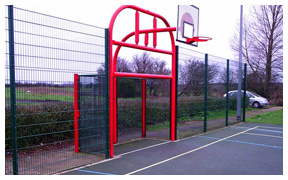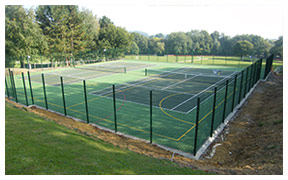 We offer MUGA construction services across the UK, including: East Sussex, West Sussex, Hertfordshire and Essex. We have constructed multi-use games areas in major towns and cities across the southeast, including London and Tunbridge Wells.
For more information on our services contact us today by filling in the form below.

Rickmansworth Playing Fields Case Study