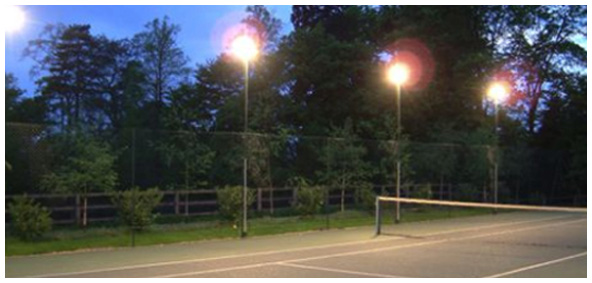 Retractable Tennis Court Floodlighting
Do you need tennis court floodlighting? Sovereign Sports are specialists in the construction and installation of retractable floodlights for clients in Kent, Surrey, Sussex, London and across the South of England. Our retractable floodlighting systems are ideal for private tennis courts, allowing you to get more use out of your court at times that are more convenient to you.
How do retractable floodlights work?
Our retractable floodlight system is made up of eight columns which can be mounted directly on to your current fencing. This means you can avoid having any lengthy excavation and trench digging works during set up. Conveniently, the columns are powder coated to suit the surrounding fencing and look smart on any court.
When they are in the down position the lights sit at the same height as the fence. When the columns extend they reach a height of around 5 metres (16 foot) which offers an even distribution of light across the court. The lamps are 500w so they provide plenty of strength, but the light is well directed too which means you can play late into the evening while causing very little light pollution.
Who are they for?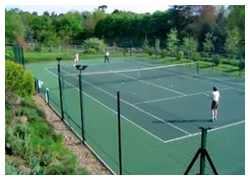 Retractable floodlighting is perfect for private tennis courts because it's less obtrusive and far more neighbour-friendly that static lighting. They allow you to enjoy all of the benefits of standard floodlights without the negative aspects of a prominent appearance or a long setup time.
They are also ideal if you are having trouble getting planning permission; authorities are usually far more willing to grant permission if your lights are retractable.
Tailor-made to your requirements
Whether you have a single private tennis court or a larger facility, Sovereign Sports is happy to tailor make the system to your requirements. We have many years of experience in dealing with all forms of tennis court construction and are trusted by clients across the country.
Local authorities and tennis clubs can also make use of retractable floodlighting, but might prefer a static lighting system set up. We are always happy to chat through your specific requirements and make recommendations for your tennis court. Don't hesitate to get in contact to speak to a member of our team about it.
Maintaining retractable floodlighting
Don't worry if you've never had floodlights before; retractable lights are easy to operate and virtually maintenance free. You use a simple telescopic action to raise and lower the lights and changing the bulb is very easy. The fact that they can be retracted to the height of the fence means that they are far easier to get to if you do ever require any maintenance to be performed.
Get in touch
If you are interested in having floodlights installed, give us a call today on 01634 684 235 and a member of the team will be happy to talk through the details with you. Alternatively you can fill out the form below and we'll get back to you as soon as possible.
For more information on our services contact us today by filling in the form below.