Tennis Court Floodlighting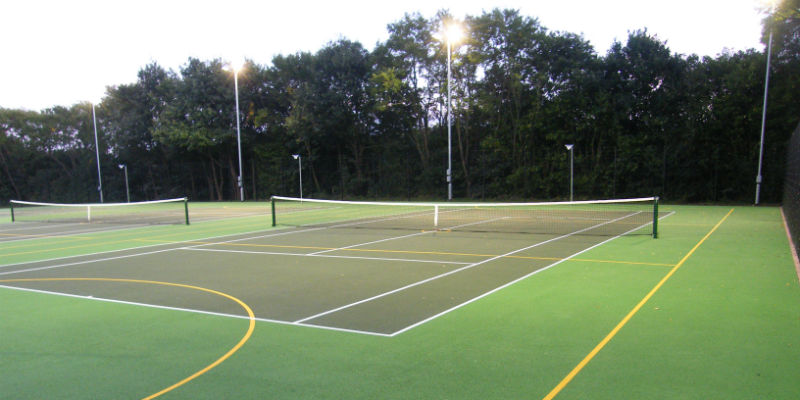 Floodlighting allows you to get more use out of your outdoor courts. On private courts, lights provide extra time for you on court while for sports facilities they can even help make your courts more cost effective with additional time available each day for their use.
Sovereign Sports are specialists in supplying and installing the highest quality floodlighting, working with you to set up a system that is perfect for your court. We offer two different types of lighting: static and retractable. If you are interested in having any lights installed please get in contact with us today by calling 01634 684 235 or emailing info@sovereign-sports.co.uk.
Retractable Floodlighting
Retractable floodlights are very popular on private courts. This is because they are unobtrusive and neighbour-friendly, allowing you to have all the benefits of floodlights without the pronounced appearance. It is often easier to get planning permission for retractable floodlights as they are less likely to cause a problem for other properties around yours.
Our system consists of powerful floodlights that are attached to existing fence posts. They can then be raised in a simple telescopic action allowing you to have high floodlights that evenly distribute the light. The system can be entirely tailored to your needs.
Static Floodlighting
Static floodlights are generally more popular with tennis clubs, leisure centres and local authorities, as they can stay in position all year round. We can customise static floodlights to suit any requirements, supplying the columns, lights, cabling, mains connections and trenching.
The static lighting system that we offer confirms completely to the LTA and SAPCA recommendations with regard to the Lux Rating and Uniformity Ratio – which measures the even distribution of light. Fixed in position, the lights are ideal for consistent conditions while you play.
Do I need planning permission?
In the majority of cases you will need to apply for planning permission to have any form of floodlights installed. This is due to the fact that the erection of floodlight columns and change of use of land needs to be approved.
You will therefore need to submit a full planning application to your relevant council. To do this you will require drawings indicating the location of the columns as well as their design and appearance. You will also need to supply a datasheet, a manufacturer's leaflet for the lights and switchgear cabinets.
How do I Apply?
Your first step should be to obtain the correct planning permission form from your local planning authority. The authorities are governed by the Town and Country Planning Act of 1990 – most of the rules and regulations are put in place by central government. However, each local authority will have a policy for its own area so it's a good idea to seek advice from the relevant officer before submitting your application.
We often recommend the use of retractable floodlights if you have had difficulty getting permission. If you need more information, we are happy to provide advice and guidance on the steps you need to take to get your planning permission sorted.
We'd be delighted to discuss your project and offer you a free no-obligation quote, just fill in the form below