Synthetic grass or synthetic clay?
If you're interested in having a tennis court installed you need to make a decision on the kind of surface you're going to have. The vast majority of courts in the UK are 'hard courts' which are often made from open-textured porous macadam, however at Sovereign Sports we offer a full range of possibilities to suit your needs.
For those customers who are looking for something different from the traditional hard court, we can provide both synthetic grass and synthetic clay courts. Read on for more details on which might be perfect for you. Alternatively, you can get in touch with us today by calling 01634 684 235 and a member of the team will be happy to talk through the range of options with you.
Synthetic grass courts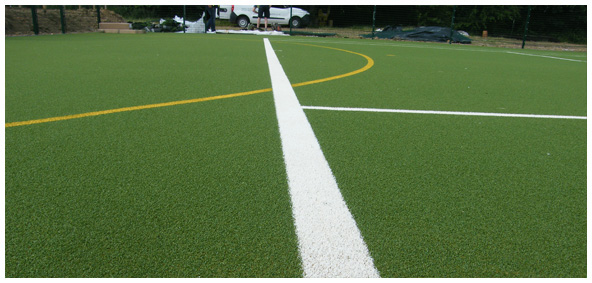 If you're looking for a tennis court that mimics the speed and appearance of a grass court but don't want the very high maintenance time and costs associated with real grass, synthetic grass could be perfect for you. As real grass is the surface used at Wimbledon, a grass court is iconic and popular in the UK.
Playing on a synthetic grass court is very different to a traditional hard court that you might be used to. This surface is considered to be 'faster', where the ball has a lower bounce. It can also be more slippery than other surfaces. The artificial turf that we use drains quickly, so it can used in virtually any weather.
Synthetic clay courts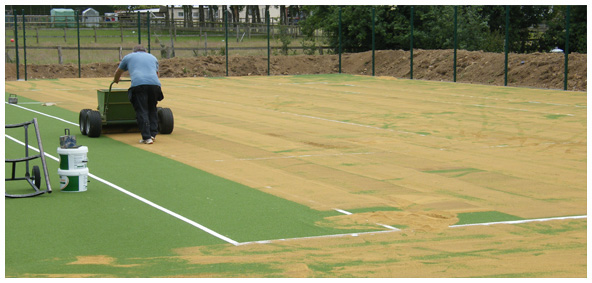 Clay courts are not common in the UK and this is partly due to the fact that this surface doesn't suit the British climate very well. However, artificial clay is the perfect way to enjoy playing on a simulated clay surface without the expense and maintenance issues of real clay. Our surface uses a short-pile sand-filled carpet which means you get an almost perfect recreation of playing on clay.
As this surface drains quickly it is an all-weather surface that you can use soon after heavy rain, if needs be. Like real clay, synthetic clay courts are much slower than synthetic grass, with a naturally higher bounce. This can make synthetic clay perfect if you are looking for a unique surface that allows for longer rallies with an emphasis on shot-making rather than speed and power.
Which one is right for you?
Both artificial clay and synthetic grass courts offer something a little different from standard hard courts. Choosing the right one for you depends on your preference for either a faster or slower surface.