Based in Kent, Sovereign Sports are specialists in tennis court construction for homes across the South East. We have a wealth of knowledge on everything to do with residential and commercial tennis courts and enjoy helping customers get exactly what they want. There are a number of frequently asked questions that we often hear regarding home tennis courts, so here are the answers.
How much space do I need for a tennis court?
The LTA recommends that tennis courts should be 114 feet in length and 56 feet in width, however, in general most domestic courts are a little smaller. Standard home tennis courts tend to be around 110 feet long and 54 feet wide. It's also worth noting that if you want a home court that is the full LTA tournament official size, it will need to be 120 foot x 60 foot.
How much does a tennis court cost?
Less than you might think. This is a difficult question to answer because the cost can vary so drastically depending on a number of factors including the proposed size of the court, the surface that will be used and the extent of the excavation and construction work that is required. For a breakdown from our expert staff on the kind of costs you might be looking at, don't hesitate to get in contact with our friendly and knowledgeable staff.
What surfaces are available?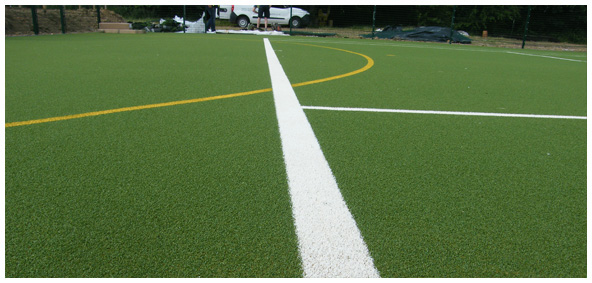 The majority of home tennis courts in the UK are hard courts constructed in open textured porous macadam. However, this is not the only option available and you can actually choose from a variety of options. We specialise in artificial surfaces including synthetic grass and synthetic clay. If you're not sure what kind of tennis court surface might be best for you, we are always happy to offer advice and guidance.
How often will a court need resurfacing?
Once again this is a very open question that will depend hugely on how well you maintain your court and how much use the court gets. In general, to keep your court in good condition you should resurface it every four to eight years.
Do I need planning permission?
In general you do need to have planning permission to build a home tennis court in your garden. In most cases the only time that you would need planning permission is if there is a change of use in the land. For example, if you want to build a tennis court within a meadow that backs onto your home.
Can I have floodlights/fences installed?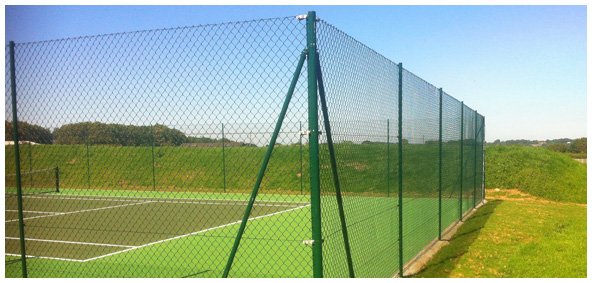 Yes, at Sovereign Sports we can handle the installation of any fences or floodlights for you. It's worth pointing out here that because of the height of these installations, you may need to apply for planning permission.